PERFDAT Data Collector
An integrated performance monitoring, analysis, and capacity planning solution for OpenVMS Alpha and OpenVMS Integrity.
VSI PERFDAT performance solution for OpenVMS addresses today's OpenVMS customers' most urgent performance management issues by providing an unprecedented level of insight into multi-system performance at low cost. A complete suite of highly automated collection, filtering, charting and trend analysis capabilities provides your IT staff with accurate and complete performance information for effective performance lifecycle management. PERFDAT is designed and developed for monitoring large complex OpenVMS environments and includes comprehensive data gathering, storage, and analysis functions. It also has the ability to monitor the performance of non-OpenVMS systems through standards-based extensions.
Performance Lifecycle Management
Regardless of the business you are in, or the complexity of your OpenVMS environment, performance lifecycle management comprises various activities like:
Benchmarking
Stress testing
System sizing
System characterization
Tuning
Troubleshooting
Investigation of performance anomalies
Validating the performance impact of system changes
Trend and capacity analysis
Forecast analysis
Prerequisite for all performance lifecycle related activities is to gather accurate and complete information for any OpenVMS subsystem.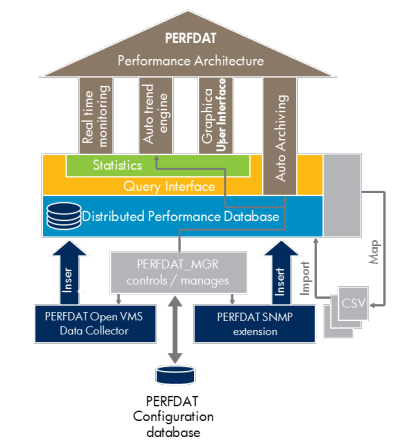 Features
Effectively managing system performance
Effectively managing system performance starts with understanding of what is normal and abnormal for your environment. Various statistical methods are available to distinguish between normal and exceptional system behavior. These methods enable you to spot deviations quickly and easily. Deviations may indicate problem areas, or just identify opportunities for performance improvements. VSI PERFDAT helps you filter the statistics and parameters that characterize your system most accurately.
Trend analysis and performance prediction
One of the most important tasks of performance management is performance prediction while planning for the future. In order to stay ahead of the curve of how your systems will perform in the future, you have to be aware of historical performance trends. VSI PERFDAT features automated reporting capability that is easy and flexible to configure. Trend and capacity reports are created and continuously updated for any set of statistics and parameters that characterize your systems, without any necessary user action for the lifetime of your systems.
Effective data management
VSI PERFDAT uses a revolutionary data access model that provides transparent, single-point access to all performance data collected by any OpenVMS node within your environment. Due to the data abstraction model used by the VSI PERFDAT data access layer, performance data is always readable independent of the OpenVMS and VSI PERFDAT version with which the performance data was collected, or the OpenVMS and VSI PERFDAT version of the system where the performance data resides on, or the version of the VSI PERFDAT GUI used for data analysis. In addition, VSI PERFDAT provides the ability to map any performance data from different sources (for example, database, application, etc.).
Performance data analysis
With the state-of-the-art VSI PERFDAT GUI you can access performance data from anywhere on the network. With the analysis capabilities provided by the VSI PERFDAT GUI, your IT staff will be able to pinpoint problems and identify the causes without expert knowledge. The VSI PERFDAT GUI focuses on the most critical performance information, saving valuable time. VSI PERFDAT supports a consistent analysis methodology for any performance data. Independent of which data and how this data was collected, the VSI PERFDAT GUI simplifies the performance management process, reducing the need for training and improving the productivity of your IT staff.
PERFDAT Webinar
See PERFDAT demonstrated and explained by Thilo Lauer, VSI support specialist and professional services technical consultant.
Latest Version
| | |
| --- | --- |
| V4.8 ECO 1 | V4.8 ECO 1 |
Licensing
Subscription (license+support) per server or Enterprise for all nodes in the environment
Documentation